One month I called Quetzaltenango Home. One month I had the pleasure to explore and experience this wonderful town in Guatemala. I fell in love with it and its surroundings. And yet I want to tell you about this Non-Profit-Volunteering Company before I sit down again and write about the city itself.
The Quetzaltrekkers.
If you have never been to Guatemala this name might mean nothing to you. And that, my friends, is a big big shame. During my time in the second biggest city of Guatemala I had the chance to be involved in this group of young volunteers from all over the world. Never did I see a group of random people from different countries with different motivations and different backgrounds work so hard for nothing but a smile. But believe me those smiles are worth it. They are different. They come from the kids who have the opportunity to go to school because of them. Or from the kids who have a home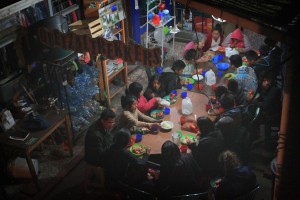 because of them. Or from the teenagers who get the chance to study and make a career because of them. And for that and nothing more a Group of now eleven young amazing personalities give all they can. They guide people like you and me, travelers, up volcanoes and along incredible trails trough out the backcountry of Guatemala. They get up early and prepare food for you, help you organize your gear and lend you stuff you need and are doing everything to make your time and hike an unforgettable one. And believe me, they are good at it. But after they spent between 1 and 6 days guiding you, cooking for you and pampering you where ever they can, their job is not finished.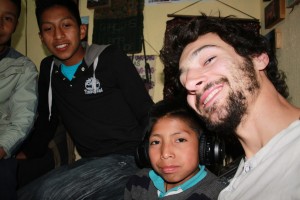 Cleaning, maintaining the gear, doing finances and keeping everything up and running are only a few tasks that follow. 7 days a week. But once the normal work its done, they are not done by long. Rent a soccer field once a week to take the kids from the orphanage to play soccer or cook big dinners for all of them in the office. There is always this one extra bit everybody gives to gift those young street kids a better and happier life. Yes they even collect all of their tips to take the kids out for a weekend of fun once in while. They took them to the beach. Its only 2 hours away from Quetzaltenango and yet most of the kids have never seen the sea before. Can you imagen the glitter in their eyes and their brusting laughs when they swam in the ocean for the first time? While I was with them they took all of them to a natural wonder in Guatemala. A place I´m very sure none of those kids would ever have seen without the help and hard work of the Quetzaltrekkers.
One month did I give. And I wish I could have given so much more. Joining them to play soccer with the kids or just out hiking with clients and seeing them work made my stay in Quetzaltenango incredible memorable. Never was hard work and pure happiness so close together.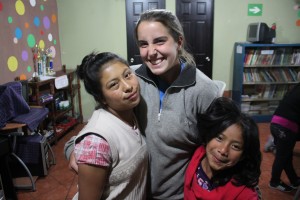 Can you give me a promise? If you happen to go down to Guatemala be sure to visit Quetzaltenango and do a hike with the Quetzaltrekkers. I promise you, you won`t regret it. You don`t believe me? Go check out my pictures from the highest point of Central America (click) or from the trek to Lago Atitlán (click). Got more time and want to do something good? Go volunteer with them and earn those honest and loving smiles from the kids yourself! Can`t go to Guatemala? Well, I promise you there are tons of ways you can help out. Donating money is only the most obvious one. Got some hiking boots you don't need any more? Or a sleeping bag? Or any other kind of Gear? I promise you, they will love you if you ship it to them. But there are so many other ways. You are good at something (web design, videography, writing or anything else) think about if you might want to contribute a little bit of your time and help out those incredible people on the other side of the world. Feel free to contact me or even better contact the Quetzaltrekkers direct.